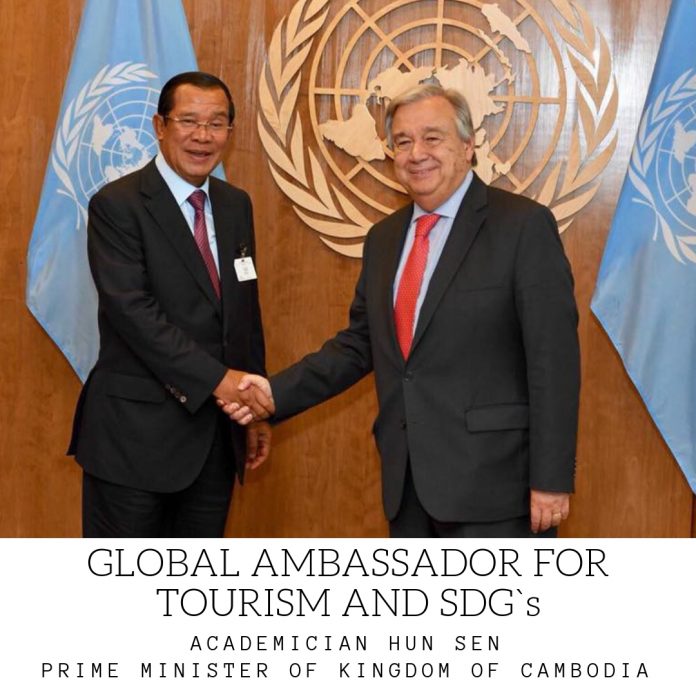 Prime Minister of Cambodia Academician Hun Sen acclaimed as Global Ambassador for Tourism and Sustainable Development Goals together with United Nation Secretary General Antonio Guterres.
According to a press report of Chinese State Agency (Xinhua) more than 43 world leaders addressed their congratulatory messages and cables to the Prime Minister of Cambodia, Dr. Hun Sen on his appointment as GLOBAL AMBASSADOR FOR TOURISM AND SUSTAINABLE DEVELOPMENT GOALS.
H.E. Samdech Akka Moha Sena Padei Techo HUN SEN , Prime Minister of Cambodia was the first world leader to be recognized for his efforts in development and tourism growth by the world tourism institutions: European Tourism Academy and European Council on Tourism and Trade (ECTT).
On their recommendation the Parliamentary Assembly for Sustainable Development Goals has appointed Cambodian Prime Minister Samdech Techo Hun Sen as a global ambassador for tourism and sustainable development goals (SDGs).
Professor Dr. Anton Caragea, president of the Brussels-headquartered European Council on Tourism and Trade, presented the letter of designation to Hun Sen at a ceremony in Phnom Penh, capital of Cambodia.
In his speech delivered at the ceremony, Hun Sen vowed to promote global tourism, saying that peace is the key factor for all countries to achieve the United Nations' 2030 SDGs.
"Peace is the most important factor for development, and only peace will enable us to achieve the 2030 Sustainable Development Goals," he said, vowing to maintain Cambodia's peace "at any cost".
President Anton Caragea said the appointment was made in recognition of Hun Sen's effort in promoting inclusive and supportive tourism and sustainable development, and in order to harness his abilities and knowledge for the benefit of world-wide growth, employment, and development agenda 2030 of the United Nations.
The global ambassadors for tourism and sustainable development goals are leaders and prominent personalities committed to promoting the role and contribution of tourism in the achievement of the SDGs.
The SDGs represent a commitment taken by all nations to working together to end poverty, achieve shared prosperity, build peace and secure a life of dignity and a healthy planet for present and future generations.
At the ceremony, the European Council on Tourism and Trade also awarded the title of "World Capital of Culture and Tourism" to Phnom Penh.
Tourism is one of the four sectors supporting the Cambodian economy. The Southeast Asian nation received 5 million foreign tourists in 2016, earning gross revenue of 3.4 billion U.S. dollars, according to the Tourism Ministry Academician Thong Khon p